She swiped the tears from her eyes and glared at her partner in frustration.
"You're not listening to me. I'm telling you that I KNOW I sound ridiculous. I'm telling you that I don't expect you to understand what I'm feeling. I just need you to let me feel it."
As suddenly as a downpour ceases, his understanding clicked into place. Forgotten were the defensive statements on his lips as he gathered her into his arms, said he was sorry and then held her wordlessly. He felt like an idiot for not realizing sooner that this was what she needed. To be heard, without judgment or criticism.
How we communicate makes every bit of a difference in how we are understood, yes. But how we listen to one another can mean the difference between a catastrophic wound or a moment of clarity in a relationship. So often, we are guilty of paying minimal amounts of attention to the words being spoken, while eagerly waiting for our turn to respond with our own thoughts. It's a type of surface involvement and one that diminishes the significance and value of the other person's expression. It was especially noticeable living up North, where it seemed in the frantic pace of one-upmanship that the art of letting someone actually finish a sentence has become defunct.  More accurately, it was a sprint to see who could interrupt the speaker first, in both business and in everyday life. But day after day, I seemed to be the only one who noticed or cared.
Even though I may be in the minority of those who notice, I don't believe I'm alone in the struggle with mastering the skill. And this skill… this art form, indeed… is called empathy. Because in the madness of today's world, how foreign it has become to place your needs and cares behind those of another. To look with an open mind and heart, past the words you hear (or don't hear) and into the meaning or reasons behind them. To stop checking your phone every five seconds and focus on the person in front of you. To notice when someone is not okay, though their brave smile may say otherwise. And to do for others when you yourself are stretched at the seams.
I've had some jolting realizations lately, on both sides of this tarnished coin. But the most I can do is be gentle with myself and remember to always try to be better. To do better for others, as so many have done better for me. And rather than fighting so hard to make my voice heard, remember that sometimes mine is not the voice that needs to shine through.
___________________________________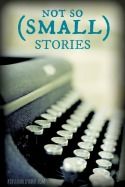 I'm linking up this week with my good friend Kiki's Not So (Small) Stories. She's pretty amazing, both as a person and a writer, and I'm grateful to know her.